Report by Alexandra Samokhvalova, InterCap/World University Service (WUS) Germany
The corona pandemic has posed major challenges for educational actors worldwide. The recent call by the German Commission for UNESCO aimed to collect examples of ESD (Education for Sustainable Development) actors in Germany, who approached their work in a creative way and found alternative solutions to continue implementation of their activities during the corona pandemic.
One of such projects, introduced by the German Commission for UNESCO and featured on their website, is InterCap: https://www.unesco.de/bildung/bildung-fuer-nachhaltige-entwicklung/kreative-bne-covid-19/world-university-service
Short translation of the article from German to English:
InterCap - European CSO-university networks for global learning on migration, security and sustainable development in an interdependent world
The InterCap project is building networks between civil society organizations and universities in Europe with the aim of promoting global learning about migration, security and sustainable development in an interdependent world and strengthening the competencies of education actors in this field. The German Committee of the World University Service is participating in the project.
Since "InterCap" will end in 2020, it was clear to all participants that the planned workshops and training courses must take place despite the corona pandemic. The participatory webinars and online-trainings that were then designed and carried out were oriented towards the needs of the learners and dealt with such topics as "COVID-19: What is the impact on Migration and Education?".
Various tools such as Kahoot quiz, "Break-out rooms" for group work and educational videos ensured that the online activities of InterCap stayed interactive. In addition to workshops and training sessions, for example, a whole internship was completed online and a planned photo exhibition will now take place mainly digitally.
InterCap partners are honoured to be featured on the website of the German Commission for UNESCO and are committed to continue the work on promoting Education for Sustainable Development among educational actors in Europe and beyond.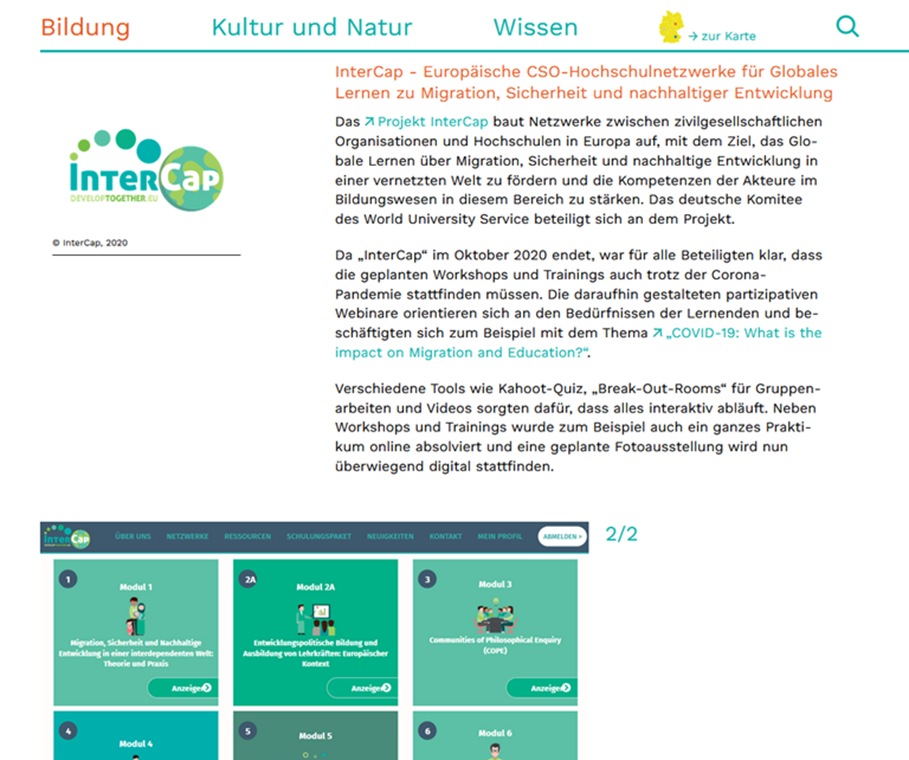 Source: Screenshot, https://www.unesco.de/bildung/bildung-fuer-nachhaltige-entwicklung/kreative-bne-covid-19/world-university-service